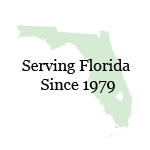 Our fast courteous services include:

- Searches
- Owners Policies
- Mortgagee Policies
- Escrow Services
- Ownership & Encumbrance Reports
- Foreclosure Binders
- Closings throughout the State of Florida




YOU HAVE THE RIGHT TO CHOOSE!!!

Title insurance is certainly not the most exciting part of buying, selling or refinancing your property; however, it is one of the most important!

What you may not know is that YOU have the right to choose the title company handling your transaction. When making your selection, consider the following questions:

Is the title company financially sound?

Have you been given the best possible rate?

What are the qualifications of your closer?

Does your title company provide exceptional service?

Who are their underwriters?

We're confident that you'll find American Home Title to be the most competent and experienced title agency in Florida.  We provide services throughout the State of Florida and  we are underwritten by national companies which will ensure you peace of mind.  In addition, we have our own abstract staff which will expedite your real estate transaction process.

Our closers have been serving the Tampa Bay Area since 1979.   At American Home Title we know that building a good relationship with the client is an integral part of the closing process.  You will have the confidence to know that we will be available to handle your title needs.

Our company cares about YOU, our customer.  Please feel free to call us for a quote.